For the last couple of months, our engineers have been working hard on all kinds of projects to finish the HRD05, our first electric car. Amongst these, one project has retained their attention more than others: the accumulator container.
What can be described as the battery box has revealed itself more challenging than expected for HARD's members. Indeed, after a first unsatisfactory version, our engineers decided to start over from scratch in an attempt to build a container that will send our car racing. Although our design isn't quite finished yet, we believe it has the potential to do what it is built to do: race! In this article, we will go over what the challenges of building an accumulator container are, and the steps we are taking to overcome these challenges. 
First challenge: Formula Student rules
The first challenge can be pretty obvious: respect the rules. The Formula Student competition has set many rules in place regarding the battery, as it contains high voltage which can be dangerous for the personnel working on it. These regulations require, amongst others, battery cells to be separated into segments, each segment being electrically insulated from each other and coated with fire retardant material. 
Our battery contains 4 different segments, each with 27 battery cells, which adds up to a total of 108 battery cells. In addition to this, the battery as a whole needs to be able to withstand a 40G horizontal acceleration and a 20G vertical acceleration. To put this into perspective, this is around 4 times the amount of G-force exercised on a fighter jet during a tight turn. To achieve this, lots of simulations are done, which prevents us from producing a costly improper container. Once produced, the container will go through a series of tests that will conform it's resistance. Finally, it must be easily removable in order to be charged, as we are not allowed to charge or work on it when it is inside the car.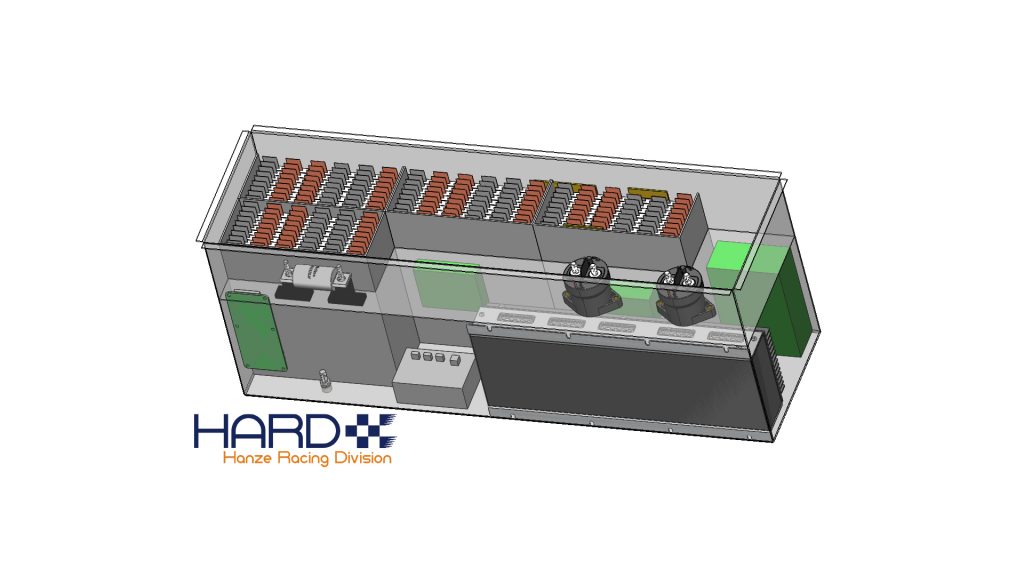 The second main challenge concerns the heat produced when welding. Indeed, our first model saw its steel plates bend due to the heat generated when they were welded to each other. For this reason, we are using a different approach on this version, which makes use of bolts in an attempt to reduce the number of welding points, which in turn will reduce the heat generated.
The third and final challenge lies in the limited space available. Indeed, the battery needs to fit inside the car, which has been designed to accommodate the first battery version. Unfortunately, this version lacked extra space for additional components which now need to be included in order to respect every rule. 
In addition to the battery cells, numerous PCBs (in green) and fuses (in grey) need to be installed, as well as the battery management system (in dark grey). Also, some space is required by the Formula Student officials to install their own measurement equipment, which will measure the heat generated during the race for example. In order to fit everything, our engineers were able to increase the width of the container, and are now confident that every element will have its place. However, a lot still needs to be done, and time is running out!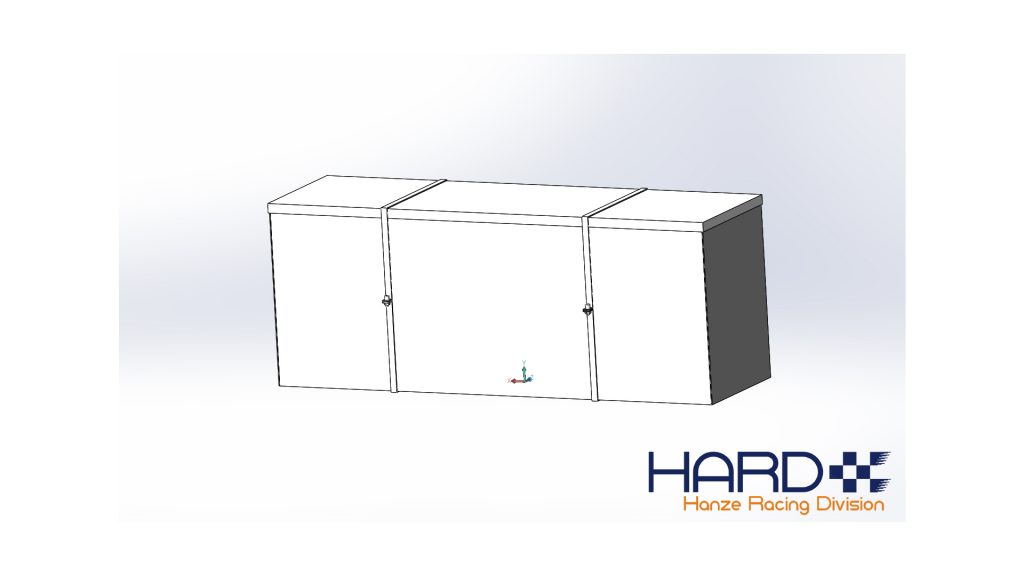 The development of the accumulator container is thus not as easy as it seems, which can be surprising when one could think it is just a box. Our mechanical team consisting mostly of first year students, progress is not as fast as it could ever be. However, the knowledge and experience they get from this tough task will very much likely help them their whole life, starting with the production of the accumulator container of our next car, the HRD06, as soon as next year!